San Diego Business Lawyers
San Diego Business Lawyers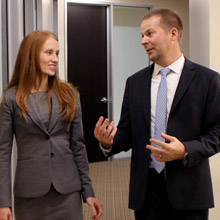 We have extensive experience handling a wide variety of legal issues that arise in the business world. Whether it's incorporating a business entity during its startup phase, winding up a business at dissolution or anything else in between, our business lawyers can provide legal advice that is critical to help your business avoid the legal pitfalls that can be catastrophic to the long-term success of your business.
Our services cover both transactional as well as litigation issues that are encountered by businesses. We offer a variety of legal solutions for business litigation, entity formation, dissolution, intellectual property protection, contact matters, partnership disputes and more.
In addition to providing legal advise to the business as a whole, we also specialize in providing advice to a business's officers, directors, shareholders and employees. The individuals that make up a business have rights and obligations that are separate and apart from those of the entire business that require unique attention.
If you or your business has a legal issue that you would like to discuss, please contact our team of business lawyers to set up a free consultation to get the help you need.
[accordion style="modern" open="yes"]
[accordion_toggle title="Business Formation & Incorporation"]One of the first steps in creating a business is to determine which entity type is the most appropriate for your particular business, and will provide the broadest protection. Whether you are a small startup business in need of guidance, or an established business seeking to grow, the attorneys at Holm Law Group will work with you to determine the best strategies for forming or growing your business. Click here to learn more about our business formation services.[/accordion_toggle]
[accordion_toggle title="Business Litigation"]Whether dealing with other business, consumers or even employees, there is always the potential for disputes to occur. Disputes can often arise from contractual relationships, business practices, employment issues or consumer complaints. Whatever the catalyst of the dispute, if it requires you to take legal action, or if it results in a lawsuit, it is crucial to have proper legal representation. The business attorneys at Holm Law Group will help you protect your business or enforce your rights to resolve any type of business dispute. Click here to learn more about our business litigation services.[/accordion_toggle]
[accordion_toggle title="Business Dissolution"]There are many considerations that need to be addressed when dissolving a company, which can add to an already emotionally and mentally draining experience. Holm Law Group can provide the necessary assistance and expertise to help facilitate the dissolution process as smoothly as possible.[/accordion_toggle]
[accordion_toggle title="Breach of Contract"]One of the most common forms of business dispute arises from contractual relationships, where there has been some form of disagreement, misunderstanding, or simply a failure to perform according to the contractual terms. The best way to avoid a contractual dispute is to have a well crafted contract at the outset, and an open communication between all involved parties. Unfortunately, despite best efforts disputes may still arise. Whether you need a contract drafted, negotiated or enforced, Holm Law Group can help. [/accordion_toggle]
[accordion_toggle title="Corporations"]There are many legal aspects that affect corporations specifically, including the process of incorporation, protecting intellectual property, resolving shareholder disputes, securities and financing. Our corporate business lawyers provide comprehensive services to built and protect your corporation. Click here to learn more about our corporate business law services. [/accordion_toggle]
[accordion_toggle title="Partnership Disputes"]An unfortunate yet common type of dispute can arise between the partners of a business. Not only can the business suffer, but so can the people and relationships involved. Having the right legal representation can help you resolve the dispute, while ideally preserving the business. If you need legal representation, contact us today.[/accordion_toggle]
[accordion_toggle title="Small Businesses"]The business attorneys at Holm Law Group are dedicated to the field of business law, and helping small businesses grow from the ground up. From financing, contract matters and IP protection, to employment disputes and business transactions, Holm Law Group provides a wide array of legal services for small businesses. Click here to learn more about the legal concerns of starting or operating a small business. [/accordion_toggle]
[accordion_toggle title="StartUp Businesses"]The early stages of a business can be the most pivotal. It is important to build your business properly, laying a solid foundation so that it may flourish. From entity formation, insurance and employment matters, to intellectual property protection, Holm Law Group provides comprehensive legal services for startup businesses. Click here to learn more about our startup business services.[/accordion_toggle]
[/accordion]
[call_to_action_2 style="1″ header="Free Consultation" content="Call Us Today: (858) 707-5858″ buttontext="Send an Email" background="#1e73be" background_hover="#23bde0″ url="/contact-us/"]