Small Business Lawyers
San Diego Small Business Lawyers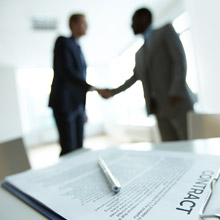 Like large companies, small businesses must contend with legal matters on a regular basis. They are required to abide by applicable employment laws, can be involved in complex processes over IP protection, and can become embroiled in contract litigation. Unlike larger companies and corporations however, small businesses do not have the luxury of unlimited time and resources to dedicate to the resolution of such issues.
A company in its earlier or startup stages must take the proper steps to protect itself, or run the risk of potential liability that may arise. Though small business owners are entrepreneurial by nature and practiced at taking assertive action by themselves, legal issues require proper assistance. Because of this, it is important for these business owners to engage experienced San Diego small business attorneys who have the skills necessary to resolve legal disputes as quickly as possible.
Small Businesses Need Representation
If you are a small business owner, finding solutions to problems is part of your daily routine. Legal issues, however, are significantly different from other types of business troubles, as they can be extremely technical and can often have a substantial, long-lasting impact on a company. Obtaining representation for legal matters provides business owners with the peace of mind that comes from knowing that their interests are being handled by experts.
We Offer Comprehensive Legal Services
At the Holm Law Group, we understand that small business owners face a varied set of legal issues. As such, we strive to offer comprehensive legal services that address our clients' many needs, including:
Business formation and incorporation
Employment contracts
Buy/sell agreements
Partnership disputes and dissolution
Business transactions
Real estate sales and leases
Venture financing
IP protection and enforcement
Shareholder disputes and derivative lawsuits
We are also available in a general counsel capacity and can be called upon to offer direction on legal issues you may encounter during your company's daily operations.
Legal Services Tailored to Your Business Needs
No matter what your situation, we will work collaboratively with you to assess your options and pursue the ones that will work best for your needs. When you engage our law firm, you can be sure that the legal strategies we implement will always be based on your priorities and business objectives.
Our Attorneys Provide Effective Representation
The small business lawyers at the Holm Law Group understand that as a small business owner, you may not have the energy or resources to devote to drawn-out legal issues. Our attorneys are dedicated to providing representation that produces the most effective results so that you can bring your legal matters to a close quickly and get back to running your business.
If you are an owner currently facing a contractual dispute, business litigation, employment law complaint or would simply like to gain a better understanding of the legal issues involved in running a small business, give us a call at (858) 707-5858 to schedule your free consultation.