Business Transactions
Complex Business Transactions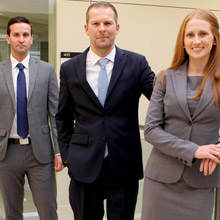 After a business has progressed past its initial startup phases, there are many different types of transactions a company may experience during its lifetime. Such transactions may including further rounds of investments, mergers or acquisitions with other companies, or a purchase of another company's assets.
Each of these processes can present potential benefits or pitfalls to you and your business, and may depend on a variety of factors such as the liabilities of your company, assets of the target company, your plan for long term growth or exit strategies.
Holm Law Group provides a wide variety of business transaction services that span the entire life cycle of a business. We work closely with your business and provide legal consulting to ascertain the most appropriate and beneficial strategies for your unique business.  Our transactional services include:
Business formation or incorporation
Capital investment and venture financing
Corporate restructuring
Intellectual property protection
Asset management
Exit strategies and dissolution
Our transactional attorneys help choose the right legal entity for your company, whether it is a corporation, limited partnership, limited liability company, joint venture or just a simple general partnership. Once an entity type of selected, we create the necessary documents to carry out the intention of the incorporators and ensure the company is structured in the way they envision.
In addition to formation and incorporation, a crucial element of growing and protecting a business is to ascertain and protect any intellectual property assets. IP can often be the largest asset the company has, and what sets the business apart from its competitors. As part of our startup services, our IP attorneys will work closely with your business to determine what intellectual property rights it may have, secure those rights through IP registration and confidentiality agreements, and enforce those rights through in the event of infringement.
At some point, it may be desirable for an individual to exit the company, or to coordinate the sale of the business itself. It is important to plan these stages carefully in order to maximize your benefits as you part from the business. Our business transaction attorneys provide counseling and transaction services for many different exit strategies, both for individuals and the company itself. These services include facilitating the sale of the company's assets, the sale of an individual's stock in the company, or dissolution.
There are many crucial and complex transactions a business may encounter during its existence. At Holm Law Group, we strive to provide comprehensive and personalized legal services for all stages of your business. To schedule a free consultation, contact us at (858) 707-5858.