San Diego Personal Injury Lawyers
San Diego Personal Injury Lawyers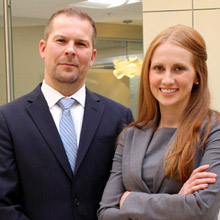 When you or a family member is injured or killed as a result of someone else's actions, trying to find the right attorney is a daunting task. The decisions that you are forced to make must be done quickly and will affect the ultimate success of your case and, likely, the rest of your life.
Suffering a catastrophic injury or loss of a loved one requires more than legal advice. By retaining the attorneys at Holm Law Group, you can rest easy knowing that your case will receive the highest-quality legal advice and that you will be personally treated with the dignity, compassion and respect that you deserve.
If you or a loved one has been injured or killed, please contact us for a free consultation to discuss your case and to best protect your interests. Even if you ultimately decide not to retain us, we would be happy to help ensure that you find the right attorney for your case.
Our personal injury attorneys help individuals recover for many types of accidents or injuries, including auto accidents, trucking accidents, motorcycle accidents, or pedestrian accidents.
Doctors have a special duty to provide the best possible care they can to their patients. When a doctor is negligent in his treatment of a patient, and causes that patient harm, there is an action for medical malpractice.
Nursing home abuse or neglect occurs when an elderly person is placed under the care of a nursing facility, and their actions cause that individuals harm. Such harm can be by direct action, or neglect. Our elder abuse attorneys have years of experience seeking justice against nursing home facilities who cause abuse or neglect.
Manufacturers are liable if their product causes harm to a consumer. If you have been injured by a defective product, our attorneys can help seek recovery against the parties responsible.
Injuries caused by a slip, trip or fall are among the most common types of personal injury. But that does not mean they should be taken lightly. Slip and fall accidents may cause serious injury, and require significant cost.
A sudden impact to the head can leave a person with permanent brain injury for the rest of their life. Our personal injury attorneys have experience dealing with these complicated issues, and seeking recovery for the victims.
Losing a loved one can be a devastating and traumatic experience. In these unfortunate situations, a wrongful death action can be brought by surviving family against those responsible.